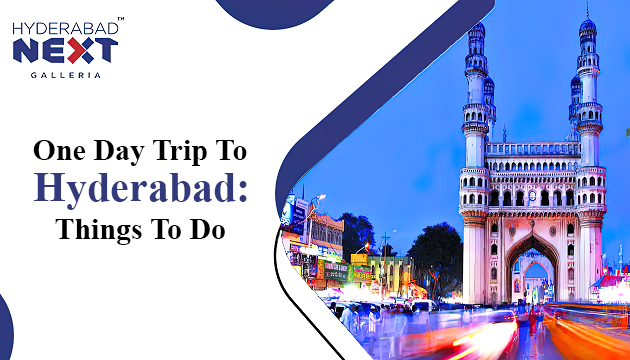 Hyderabad is home to ancient tombs, pigeons, flaky pastries, fort walls, archaic domes, stone-carved mosques, expansive lawns, and fort walls.
A unique blend of modernity and tradition, Hyderabad was founded by Muhammad Quli Qutb Shah in 1591 on the banks of the Musi River. Despite being surrounded by modern skyscrapers and cars, Hyderabad still feels like a fortress from the past.
One side of the Charminar displays the Nizami heritage of Hyderabad, while the other serves as a hub of white-collared millennials rushing to the Hitech city. The popularity of Laad Bazaar rivals that of mega shopping malls.
Golconda fort is a popular weekend getaway for many, but Next Galleria Mall's PVR is no less enticing. While KFC might have a long wait, Shah Ghouse Cafe is even more crowded. The distinctive glory of the city is matched by its mouth-watering food, like Hyderabadi biryani, kebabs, and rolls.
These best places in Hyderabad can make even your day trip refreshing. The only questions are; where to begin and what to do.
To help you discover the best hangout places in Hyderabad and enjoy fun-filled activities within one day, we've compiled an all-inclusive Hyderabad itinerary.
Let's get started with the exciting things you can do at the fun places in the city of Nizams!!
A few unusual things to do in Hyderabad
Indoor-Outdoor Dining at Cafes: Venture into Hyderabad's tech hub to find everything new and fresh! In addition to indoor-outdoor dining options, live performances, gourmet coffee, smoothies, gelato shakes, all-day breakfast, freshly baked cookies, and more, these cafes offer a host of other amenities.
Live music is performed all night in an ambiance that makes it easy for you to groove and stand up for those seeking a night filled with laughter. Food and booze are not to be missed, with boozy milkshakes, flatbreads, heady signature cocktails, American-style crowd favorites, and local favorites.
Enjoy a Movie on PVR Screen: While you'd probably picture a movie theatre when you hear the word 'Big Screen,' that's not what the locals envision. There is no better way to enjoy movies than in PVR at Next Galleria Mall, Panjagutta, where a huge screen awaits you.
A delicious dosa in the morning at Ram Ki Bandi: Mozamjahi Market is a must-visit for South Indian cuisine fans. Ram Ki Bandi, one of the finest restaurants in this lively market, offers lip-smacking dosas every morning, even before the roosters croak!
Fun and thrilling things to do in Hyderabad
The city caters to the young and the old regardless of age. A fun-filled day is guaranteed with all the activities in and around the city. While visiting the city, indulge in these thrilling adventure activities.
Go Karting: Indulge in one of the most well-known adventure sports by unleashing your inner racer. An adventure activity like this is perfect for a large group of friends since you can race against each other to win. Head to the best karting tracks in the city for an exhilarating experience.
Zip-lining: Experience an adventure thrill like no other on a zip line. It involves being harnessed to a cable and zagging across from one point to another while tethered to the cable. You will certainly satisfy your adventure buff side with the entire adventure that provides a stunning aerial view unlike any other.
Shooting: Get your adrenaline pumping at the city's many shooting ranges. There is no thrill like aiming at targets and firing at them to get an unmatched thrill when participate in this adventure activity.
PVR Playhouse at Next Galleria Mall: Inspired by Finding Nemo, the PVR Playhouse is a blast for kids (and adults). Bringing out the child in you is easy with teddy bear chairs and swings.
However, the big draw is a bright slide hidden in a corner. Towards the end of the slide, kids can play with balls and blocks on a mock lawn, where there is a teeny play area. Additionally, you will love the walls of Nemo's house, where she is swimming with her friends.
Shopping Spree at Nizami City's Ethnic and Royal Markets
The beauty of Hyderabad is not only in its monuments, lakes, and culinary delights but also in its shopping opportunities. It is not hard to turn every visitor to this city of pearls into a shopaholic after touring. Holidaying in Hyderabad offers an array of shopping options, ranging from ethnic and traditional items to the latest fashions from world-renowned designers.
Shop at Legendary Market, Laad Bazaar: This market was built to commemorate the wedding of Quli Qutub Shah. There is a huge variety of lacquer bangles to choose from at the Choodi bazaar, from plain bangles to stone-studded bangles.
There is more than bangles to offer at Choodi Bazaar, including silverware and antiques. Also, at this market, you can find laces, and dupattas, especially sarees and khara dupattas.
Bidriware Shopping at Begum Bazaar: The Begum Bazaar is another place that captures the history of Hyderabad city. The Begum Bazaar is not only one of Hyderabad's oldest markets but also one of its largest.
Almost everything is available at Begum Bazar, from household items to kitchenware to perfumes and cosmetics. No visitor to Begum Bazaar should miss exploring and buying bidriware.
Ittar/Attar Shopping at Perfume Market: Choose between Sandalwood oil, musk, rose, jasmine, and many more natural fragrances at the Perfume Market. Family-owned perfume shops are scattered throughout Old Hyderabad's narrow lanes, selling fragrances for generations.
Discover Brands & Local Sellers at Koti Market: Formerly known as Residency Market, Koti Market is now a popular shopping destination. A popular destination for women's clothing and jewelry shops, mostly silver jewelry, it offers all kinds of clothing and accessories, from the latest trends to traditional clothing. Shopping enthusiasts can always find what they are looking for here.
It doesn't matter if you're looking for specific brands or local sellers; you're sure to find plenty to choose from. From street vendors to towering branded showrooms, Koti Market offers a vibrating shopping experience.
Shop Ethnic wear at Ethnicity: Located at Next Galleria Mall in Panjagutta, Ethnicity offers ethnic wear for women, men, and children. Velvet and Benarasi silk maxi skirts are available in a variety of ethnic designs.
Several blouses and crop tops can be paired with these skirts. Is your best friend's sangeet or wedding coming up? You're looking for an outfit under INR 5,000? The pieces here can be mixed and matched.
Taste the Delicious Delicacies
Since Hyderabad is famous for its rich Mughlai and Nizami food, you can easily find Hyderabadi biryani joints, Mughlai places, mutton biryani joints, or keema naan and seekh kebab kiosks.
Or, enjoy Irani chai outside shabby restaurants. A food lover's paradise, this city has a wide variety of restaurants, street stalls, and modern bakeries.
Alternatively, if you are a fan of Punjabi cuisine, you can pamper your taste buds at NorFest in Next Galleria Mall. Enjoy Galouti Kebabs, Murgh Angara Tikka, Mutton Roganjosh, and Lachha Parantha as Honey Singh serenades you.
Our Final Words
Hyderabad is a wonderful city to visit for a day trip. Spend a day relaxing in the city and escape your routine. At Next Galleria Malls, we have something for everyone, no matter your interests. The gaming zone will keep your kids occupied, while the massive discounts on big-brand items will delight you and your partner.
Frequently Asked Questions
1. Is there any hill station near Hyderabad?
The closest hill station to Hyderabad is Ananthagiri hills. It is located at a distance of 100 kilometers from Hyderabad. The place has a lot of popular tourist spots, and one can visit these places on a day trip from Hyderabad.
There are many other hill stations near Hyderabad that you can visit during your vacation.
2. Which is the cheapest area in Hyderabad?
There are several places around the city where you can find all kinds of cool stuff at affordable prices. Markets such as Laad Bazaar and Begum Bazaar are the cheapest areas in Hyderabad.0
3. How can I spend my day in Hyderabad with friends?
The city is vast and sprawling, with multiple attractions to suit different tastes. With various options, it can be difficult to decide where to go and what to do when you're in Hyderabad. Here's what we recommend:
Visit the Salarjung Museum
Take in the view at Charminar
Go shopping at Banjara Hills
Stop by Golconda Fort