How Can Shopping Malls Improve the Shopping Experience for Customers?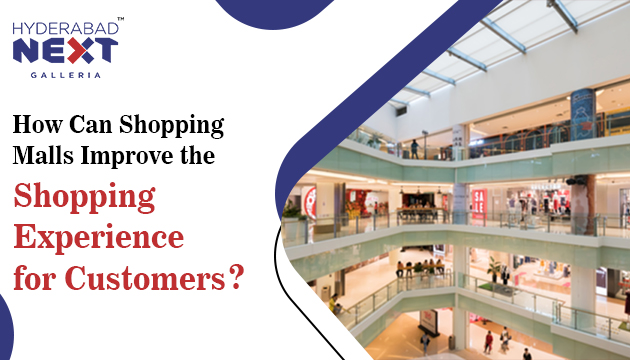 In this digital age, retailers and shopping malls are facing many challenges. Our shopping habits are changing due to online shopping and changing preferences, resulting in reduced foot traffic.
Additionally, the recent COVID-19 pandemic has accelerated these trends since customers have become increasingly digital-centric, expecting frictionless transactions.
The changing shopping trends demand shopping mall owners adopt strategies to improve the customers' shopping experience and create an ultimate shopping destination.
Here are a few tips on how mall owners can improve customer shopping experience:
Providing a personalised customer experience
The best way to provide an outstanding customer experience is by personalising it. 80% of the customers are more likely to shop from a company that offers a personalised customer experience. Create a strong, everlasting relationship with your customers by getting to know them personally.
In addition, an omnichannel loyalty program can help retailers keep track of customer preferences. Shopping mall owners can understand their customers' product preferences and buying habits through loyalty programs to provide personalised offers. Here are a few tips on how shopping malls can implement personalization:
Go the extra mile to help them
Ask for their feedback
Provide customized experience and products
Using technology to improve the experience
The use of technological devices and applications in shopping can transform the shopping mall experience. Immersive screens, virtual try-on mirrors, smart lighting controls, and proximity marketing will not only improve customer experience but will also enhance the mall's value.
An interactive mall app can allow customers to check the store locations and access the food menu from anywhere without visiting every F&B outlet. In addition, use technology to manage the customer database and provide personalized offers.
Reduce friction in the buying process
Shoppers may leave the store without buying when they find the checkout process too complicated or time-consuming. Improving the checkout process will provide a better shopping experience for your customers. Adding a PoS that allows store associates to process the checkout process will streamline the checkout and improve sales.
Buy Online Pickup In-Store (BOPIS)
Buy online, pickup in-store or click and collect is becoming an important feature in the retail industry. It has proved a great way for offline stores to stand out from the competition. The feature allows customers to make an online purchase and pick up the order in-store. BOPIS can provide the best shopping experience as customers won't have to wait in line for the checkout process.
The mobile app and website of the shopping mall should not only include store details and information on events and activities but should also allow customers to buy products online and pick them up from the store.
Create a perfect ambiance
Customers expect a convenient shopping experience without friction when they visit the mall. The ambiance of the mall should be relaxing and safe to provide a welcoming feel to the visitors. The mall's architecture, decor, and lighting should match international standards to enhance the shopping experience.
The safety and security of visitors are key elements to providing the right ambiance, as customers will only be able to enjoy their visits if they feel safe while in the mall. The use of advanced surveillance solutions can ensure a positive visitor experience.
Establish a complete entertainment hub
A shopping mall is more than just a place to shop and eat. Organize events and activities to drive more traffic to the mall. Invite non-profit organizations and community groups to hold events to entertain the audience and improve their mall experience. Plan events that will entice them to engage and spend more time at the mall.
Malls have started to include gaming and entertainment arena where visitors can enjoy themselves with their family and friends. Fun activities such as water rides, ice skating, video games, live music, concerts, comedy shows, and more drive traffic to the mall and keep the visitors engaged.
Create the right brand mix
A successful shopping mall should have categories and brands that complement each other. The right mix of store categories and brands is important when people visit the shopping mall. Visitors expect to find all categories of stores under one roof, including clothing, jewelry, beauty, personal care, footwear, sporting goods, groceries, electronics, F&B, gaming zones, multiplexes, and more.
In addition, the right mix of international and national stores of different categories and some funky stores can help target new customers and increase footfall in the mall.
Add social media touch
People love to share their experiences on social media. Giving a social media touch to the shopping mall will encourage visitors to share their mall experience on social media. Add social media backdrops, Instagram-friendly walls, artwork, and more around the mall where people can click photos and share them on their social media accounts.
Implement surveys
The best way to understand customer shopping experience and expectations is by conducting customer satisfaction surveys and collecting shopping experience feedback from customers. Surveys can help you understand your customers' challenges while shopping in the mall. Evaluating survey answers can help malls keep customers satisfied, build loyalty, and retain them for a long-time. 37% of customers prefer to shop from the same retailer if they get a great shopping experience. However, the biggest challenge in customer surveys is choosing the right questions to ask customers. Some questions to include in the customer satisfaction survey of a shopping mall are:
How often do you visit the mall?
How do you feel about the overall experience at the mall?
What is your favorite store at the mall?
What is your favorite food court item?
How do you feel about the cleanliness of the mall?
How do you feel about the parking at the mall?
What is your favorite thing to do at the mall?
How do you feel about other features of the mall?
What would you recommend to improve your experience at the mall?
Would you recommend the mall to others?
The Next Galleria Malls provide an excellent shopping experience for visitors. It is the best mall in Hyderabad, where you can eat, shop, and enjoy fun activities throughout the year.
Visit The Next Galleria Mall to get a unique shopping and entertainment experience.
Frequently Asked Questions
1. What is the customer shopping experience?
The customer shopping experience is all the communication, interaction, and touchpoints that customers have in the purchase journey with a company. It starts from the product search or watching a promotional piece of content and goes beyond making a sale. A positive customer shopping experience is important for the success of any business because happy customers become loyal customers who repurchase and recommend the brand to their friends and family.
2. Why do people prefer shopping malls?
People prefer shopping malls because of several reasons:
A wide variety of products from all categories are available under one roof
Shopping malls are a great source of entertainment where you can shop, eat, and get entertainment
Malls provide a relaxing ambiance and several facilities in one place
3. How can shopping malls attract customers?
Shopping malls can attract more customers by improving the customer shopping experience in malls and turning the mall into a complete entertainment hub. Malls can add features and amenities like
Adventure parks
Gaming zones
Buy online and pick up in-store
Space for community events