What Are The Best Places In Hyderabad To Buy Christmas Decorations?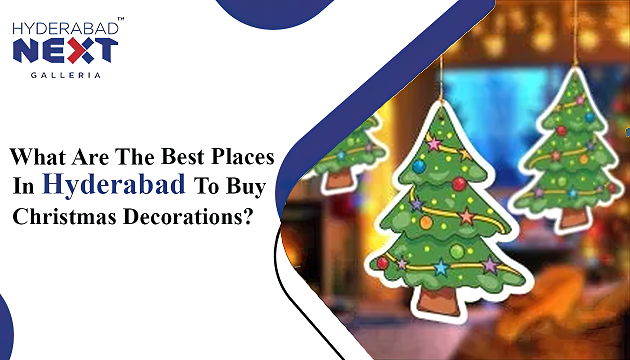 It is the last month of the year, with Christmas vibes all around, and you all must have begun your hunt for the perfect Christmas decorations for 2022. Thankfully Hyderabad offers a wide variety of shopping places with every item for Christmas decoration you need or have watched in some web series or movies.
Hyderabad has got plenty of options for your festive decor shopping. You can shop at world-class shopping malls and organic bazaars, and of course, you can also explore street markets.
Keep reading to find out more.
1. Organic Bazaars
Hyderabad has the greatest and most popular organic bazaars that are all set to offer you amazing options for a variety of eco-friendly festive decor for your home. Here you can find the most amazing Christmas decorations and several goodies on sale.
Some of the most famous organic bazaars you can visit are the Lamakaan organic bazaar, Adivaram angadi, Shilparaman, and many others. They offer everything for Christmas at an affordable price, ranging from fir, spruce & pine trees to tree ornaments, lights, and accessories that you need.
2. Street Bazaars
Whether it's lighting, tinsels, or beaded garlands you need for your tree, you'll love Hyderabad's street bazaars because you can get all these things at a lower price.
As long as you can bargain for your purchases and walk around crowded places, you will definitely get the most budgeted yet really amazing festive decor for your home or office.
Here you will find the streets full of shops and bandis where you can buy all the Christmas decorations that you have on your list. You can find good deals on attractive ornaments, lights, and massive Christmas trees at this time. Also, if you want to come back home with your bags full, we recommend you visit this place in the morning or afternoon.
Here, in this market, you can experience the Nizami-essence of Hyderabad, as it is almost 150 years old. You can go Christmas shopping in this market, which will surely elevate your experience and mood. One can find Christmas trees, ornaments, fairy lights, buntings, and several other decoration items that you have on your list. You can take a truckload of festive baubles on a budget.
Here, you can buy anything ranging from clothes to electronics. This market has everything for everyone. It is a very popular place among tourists. You can get many traditional handcrafts on sale, along with fairy lights, Christmas tree decorations, Santa Claus, snowflakes, and star-shaped balloons for your festive decor.
3. Shopping Malls
Shopping malls are one of the most convenient places to buy everything you require for your home decor during festivities. You can explore multiple amazing brands under one roof.
Moreover, during the festive seasons like Christmas, malls also offer massive discounts on every item, which will help you buy everything on your bucket list while staying within budget.
Shop to your heart's content at Super Store 99, Hyderabad, in Next Galleria Malls, Panjagutta, while your kids can enjoy at the fun zone. To make your home festive for Christmas, visit Next Galleria Malls.
Final Words
One of the best things Hyderabad's street markets offer is that you can buy anything but at great prices. Shop at these bazaars or malls in the city and usher in the Christmas season with great enthusiasm.
In addition, if you wish to avoid these lively and crowded markets, consider Next Galleria Mall, where you will find the best Christmas decorations, Christmas trees, cakes, and gifting solutions, as well as have a blast setting up everything for Santa's arrival!
We wish you a Merry Christmas in Advance.
Enjoy and have fun.
Frequently Asked Questions
1. What are the most bought Christmas decorations?
Christmas decorations are a big part of the holiday season. They bring joy and excitement to our homes, but they also make it possible for us to enjoy the holidays even when we're far away from our loved ones. The most popular Christmas decorations are:
Christmas Trees
Garlands
Wreaths
2. How can I make my house look Christmassy?
To make your house look Christmassy, you can get started by creating a mood board. Put together images that inspire you and reflect the look you want to achieve. Then start shopping. Make sure to include some LED lights in your decorating scheme. They create an amazing ambiance without being too tacky or over the top.
3. What day is the mall least busy?
The hustle and bustle of the mall is enjoyed by some and dreaded by others. If you're in the latter category, you're probably wondering what day the mall is least busy. Well, we've got some news for you. We've done some research, and we've found out that weekdays are less busy than weekends.