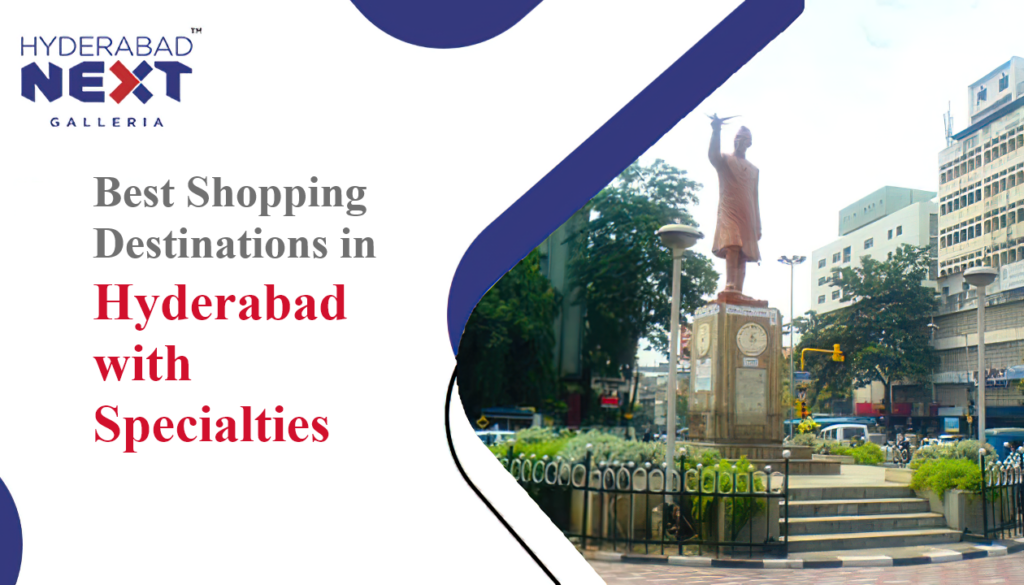 Hyderabad, the city of Nizams, is well known for its lakes, aromatic Hyderabadi biryani, rich history, and monuments. Apart from several tourist attractions, the beautiful city of Hyderabad also has innumerable shopping destinations for shopaholics.
From centuries-old bazaars to the latest shopping malls and from traditional and exquisite crafts to branded items, Hyderabad has a long list of budget and upscale shopping destinations to choose from.
No doubt, the city has innumerable opportunities for shoppers; we have listed the most popular shopping destinations in Hyderabad that will help you have a memorable shopping trip:
1. Laad Bazaar
Located close to the famous Charminar, Laad Bazaar is one of the city's oldest and most popular street shopping destinations. Laad Bazaar, also known as Choodi Bazaar, has been operating since the reign of Qutb Shahis and Nizams.
The market is stretched to about one kilometer and is packed with hundreds of shops selling a variety of Laad or Lacquer bangles. Apart from bangles, the shops in the market also feature jewelry, pearls, ethnic silverware, rare antiques, semi-precious stones, Bidri ware, silk, perfumes, handicrafts, kalamkari, and more.
Specialty: Lacques bangles
2. Begum Bazaar
It is one of the biggest and oldest shopping destinations in Hyderabad. The market gives a glimpse into the city's rich heritage. Begum Bazaar is an over 150 years old commercial market established during the reign of Qutb shahi rulers.
Begum Bazaar is home to over 350 wholesale and retail shops selling almost everything you can think of, including clothing, shoes, perfumes, dry fruits, cosmetics, kitchen essentials, home decor, and more.
Begum Bazaar is especially popular for tobacco, bidriware, and bidri-studded jewelry. Bidri work is a metal handcraft from the 14th century that involves the inlaying of white brass with silver. You need to have good bargaining skills to get a decent deal while shopping in this market.
Specialty: Bidriware
3. Next Galleria Mall
If you want to buy the latest branded products in Hyderabad, you can quickly turn to Next Galleria Mall for a unique shopping experience.
Located in Punjagutta, Next Galleria Mall is one of Hyderabad's most popular shopping centres. Spread over 5 lakh square feet area, the mall boasts some of the finest international and national brand stores and restaurants, along with a PVR cinema and gaming zone.
The shopping mall is directly connected to the Panjagutta metro station, making it easily accessible. For shopping, the mall has stores like Pantaloons, Shoppers Stop, Hamleys, Miniso, Decathlon, Max, Levi's, and more. The food court on the mall's top floor has some popular restaurants and food outlets, including KFC, Taco Bells, Nor-Fest, Ibaco, and Subway.
Specialty: Branded products, food court, and entertainment
4. Perfume Market
Known for selling high-quality locally-produced perfumes or ittars, the perfume market is the symbol of Hyderabad's rich and vibrant heritage. Ittars are famous local perfumes used since the Nizam rule in the region.
You can find a variety of unique and rare perfumes stored in small glass vials. Some shops in the perfume market are centuries old and have been selling perfumes for many generations.
Specialty: Natural perfumes
5. Shilparamam
Get the village-like shopping experience in the middle of the IT hub of Hyderabad. Shilparamam is an art and craft village established in 1992 in the city to promote the traditional art and craft of the country. The market consists of 15 huts that were designed to give a rustic look and provide a unique experience of how villagers sell their products.
Artisans from different parts of India have set up their shops inside this market. You can find various art and craft products in the market, including eco-friendly paintings, earthenware, metalware, wooden items, ethnic jewelry, handicrafts, and natural fabrics. Additionally, Shailparamam hosts a variety of cultural events on a regular basis.
Specialty: Handcrafted products
6. Abids Street
The market offers a diverse collection of products, from clothing and handicrafts to electronics. It is one of the most popular shopping destinations in Hyderabad, offering something to people of all ages. The market is especially famous for traditional Indian clothing.
Abids Street also has an open-air Sunday Book Bazaar between the GPO and Cherman showroom. This street-side book market offers a wide range of books, from academic books to bestseller novels. Use your bargaining skills to buy books at the best rates from the market.
Specialty: Traditional Indian attires
7. Charminar Bazaar
Indulge in the real shopping experience at the rustic Charminar Bazaar. The market is especially famous for precious pearls, especially Basra pearls ornated with gold and silver. Apart from pearls, the shops in the market also sell a wide array of products, such as saris, Hyderabadi Khada Dupattas, sherwanis, bangles, jewelry, perfumes, footwear, and more.
Specialty: Pearls, Jewelry, and ethnic wear
Shop your heart out at several great shopping destinations in the city. Several affordable and upscale shopping destinations make Hyderabad a great place for shoppers.
Experience world-class shopping at Next Galleria Malls Hyderabad, a perfect amalgamation of shopping and new-age entertainment.
Frequently Asked Questions
1. What are the most popular items to buy in Hyderabad?
The most popular items to buy in Hyderabad include:
Bidriware
Pearls
Lacquer bangles
Locally-produced perfumes or ittars
Ikkat pattern clothing
2. What are the five things Hyderabad is famous for?
The five famous things of Hyderabad are:
Charminar
Golkonda fort
Falaknuma Palace
Hyderabadi Biryani
Hyderabadi pearls
3. Which mall is better in Hyderabad?
The Next Galleria Mall is one of the best malls in Hyderabad, offering premium brand stores, next-generation multiplexes, gaming zones, e-techno zones, and a spacious food court.